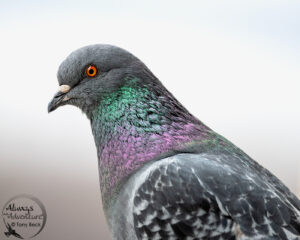 Nikon D850 with AF-S Nikkor 500mm PF ED VR f5.6
ISO 1000 – Shutter 1/640 – Aperture f6.3
While enjoying my balcony view, the wildlife is usually too far for effective photography. However, there's a handful of common birds that occasionally visit. Pigeons are the boldest of the visitors and often perch right beside me. However, I'll need some patience waiting for a Peregrine Falcon to come and feed on the pigeons. When it happens, my camera better be ready.
After buying my first film camera back in the early 1980s, I found myself constantly experimenting, exploring and constructing creative ideas. Everything was fair game and worthy of being photographed. However, over the decades, I became focused on my favourite subjects – Nature and Wildlife. Luckily, I turned the adventurous outdoors into a satisfying career. Sadly, during these times of heightened safety and health concerns, I find myself working from a tiny environment – my high rise condo. How can I possibly be creative confined to a small space?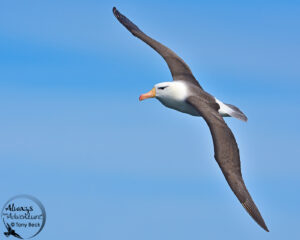 Merging images together with Photoshop is a tricky job that can take a lot of time and effort, especially if you strive for accuracy. Use your spare time to tackle those difficult photo editing jobs. It took me a few hours to fine-tune this image of an iceberg behind a Black-browed Albatross. By combining the two images, I've placed this large majestic seabird into its Antarctic envi.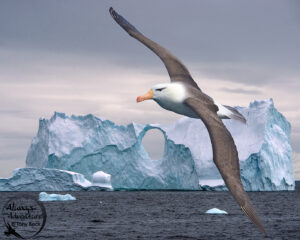 I've been thinking a lot lately about my early days as a photography student. Some of my first assignments dealt with unleashing creativity. Our various homework challenges forced us to compose images, all of them taken within a small area with limited possibilities. For example, upon waking up, I had to expose an entire roll of film in my bedroom before stepping out. Another assignment had us toss a "Hoola Hoop", or a large ring, into a random area. Wherever the hoop landed, I had to take 10 photos within the confines of the hoop. Macro lenses were ideal for these exercises.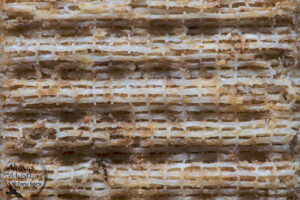 Nikon D5 with AF-S Micro Nikkor 105mm f2.8 with TC14E Teleconverter
ISO 500 – Shutter 1/8 – Aperture f18
Creating interesting abstracts is easy. Try looking for patterns and shapes in random items throughout your home. Here is a close up of a common wheat cracker. On its own, it's hard to determine what it is. At the very least, it demands your curiosity and attention. For additional craziness, try altering colours and textures using various editing tools.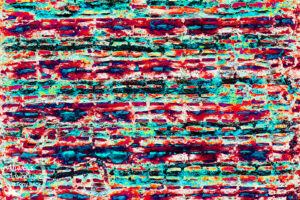 These types of assignments push artists to expand their awareness. They help artists recognize lines, patterns, and symmetrical arrangements more quickly. They also encourage patience while searching for details or waiting for the perfect pose. Ultimately, they improve your ability to create aesthetically pleasing compositions. As a bonus, your results can be used commercially for clip art, stock photos, or creative backdrops.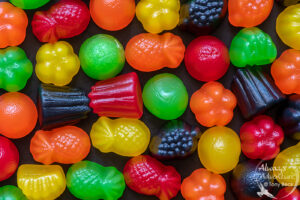 Nikon D5 with AF-S Micro Nikkor 105mm f2.8
ISO 640 – Shutter 1/4 – Aperture f18
Everyone loves Candy. Not only sweet and tasty, but they often have an appealing or appetizing appearance. They make wonderful photographic subjects, especially when arranged in colourful and symmetrical patterns like these JuJubes.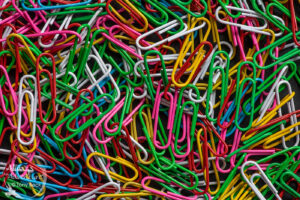 Nikon D5 with AF-S Micro Nikkor 105mm f2.8
ISO 640 – Shutter 1/4 – Aperture f18
Images with bold colours and contrast tend to draw attention. Large numbers of small items can be easily arranged to form attractive repeated patterns. Common office items like paperclips, thumb tacks, post-it-notes, or any other types of office or school supplies can easily entertain a creative photographer.
During this era of physical distancing, I encourage you to try some assignments at home.
Feel free to create your own. Your imagination is the only restriction.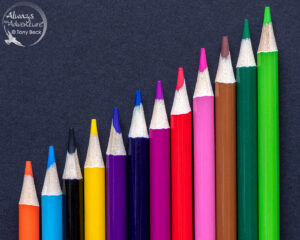 Nikon D5 with AF-S Micro Nikkor 105mm f2.8
ISO 640 – Shutter 1/4 – Aperture f18
Any type of office item can make a fascinating photographic subject. Office or school supplies, like these coloured pencils, can be arranged in symmetrical patterns for visual impact.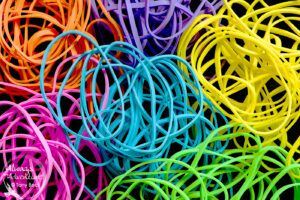 Nikon D5 with AF-S Micro Nikkor 105mm f2.8
ISO 640 – Shutter 1/4 – Aperture f18
Creating different patterns will ultimately enhance the quality of your work. However, the patterns don't have to be elaborate or fancy. Start with a few simple ones and expand from there.
Here are a few suggestions: 
1) Pick one room (kitchen, bedroom, bathroom, den, etc.). Start first thing in the morning and expose 20 frames inside the room before doing anything else. Look for eye-catching compositions, bold colour, contrast, texture, patterns, etc. Return to that same room in late afternoon and take another 20 images. Repeat as necessary.
2) Pick one window. Expose 15 or 20 images of objects on the opposite side of the window. Is that your neighbour's cat visiting your yard? Is your property graced with flowers, butterflies, birds, etc.? Is that a real toad beside your garden gnome? Telephoto lenses have potential here. Try again on a different day and compare results.
3) Check your fridge. Hopefully, it's well-stocked. Expose 15 or 20 images of items in the fridge. Take the items out of the fridge if you want. Look for lines, shapes, patterns, curves, textures, etc. Macro lenses work really well here.
4) Search your home for random junk. Assemble them into interesting two-dimensional images for the camera. Plants, goblets, saucers, utensils, toothpicks, spice jars, towels, stuffed dolls, TV remote, pets… there's no end to the combinations you can put together. Look for patterns or abstract-looking forms. This is a great opportunity for thinking "outside-the-box".    
5) Check your garage for those dusty, rarely-used pieces of camera equipment and put them to good use. Is that 7-year-old dual flash system hiding in your basement worth bringing out? Is it time to test your old super wide-angle lens on your new full-frame camera? 
6) Since you now have lots of extra time, you might even try some ambitious, time-consuming techniques like Photo Stacking or real HDR.  
7) After you've finished your assignments, explore your editing programs. Try some crazy creative manipulations, or simply polish up your favourite images to make them more appealing.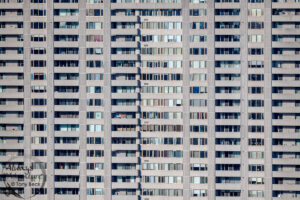 Nikon D850 with AF-S Nikkor 500mm PF ED VR f5.6
ISO 200 – Shutter 1/1000 – Aperture f7.1
With a telephoto lens, look for lines and patterns in the environment outside your window. There's interesting repetition in many of the high-rises around our neighbourhood. Take your creativity further during the editing process. Colours can be altered to enhance the abstract quality of the pattern.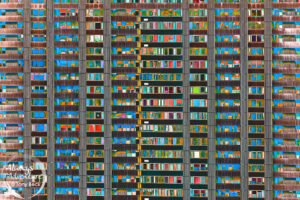 Relax, have fun and experiment. These assignments have no rules. But, you can make some up if you think it helps. Try each assignment with different lenses. You'll quickly discover how results vary depending on equipment used. And, what can be better than learning something while having fun in the process?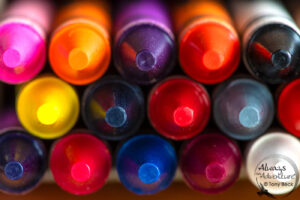 Nikon D5 with AF-S Micro Nikkor 105mm f2.8 with TC14E Teleconverter
ISO 800 – Shutter 1/5 – Aperture f20
Colour and contrast draws attention, especially if they're combined with common, every-day items like these crayons. Although the images should work without a lot of editing, you can take potentially abstract subjects like this and alter them dramatically using a variety of editing tools. Using the curves tool in Photoshop, I was able to completely change the colours and textures of these crayons.