Tony came to the Ambleside 2 condominium complex mainly for the view overlooking the Ottawa River. He figured it was a convenient and safe place to see interesting birds from the comfort of a balcony. He wasn't disappointed. In fact, the view surpassed all his expectations. Free of ice in winter, and active with birds all year, Deschenes Rapids is an ideal environment to see different species of birds that pass through our region.
As it turns out, he's not the only one looking for birds from our building. Ambleside 2 is an attractive spot for Peregrine Falcons – formidable avian predators, specializing in hunting birds. Although the Falcons have an all-you-can-eat buffet on the river, they frequently hunt around our high rises of Ambleside 2, often looking for pigeons.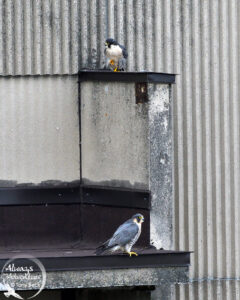 Pair of adult Peregrine Falcon
Since we occasionally see a pair of adult Peregrines perching on our building, we suggested to our Board of Directors to place a nest box on the roof. We're happy to announce that, thanks to members of the board, it's been built and placed on our roof.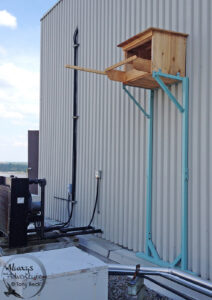 Peregrine nesting box