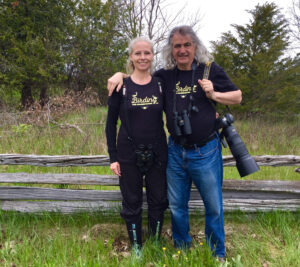 Recap of Bird Studies Canada's BIRDATHON 2017
After a slow start to a wet spring, we were finally rewarded with a thrilling and productive weekend here in Eastern Ontario, Canada.
Participating in The Great Canadian Birdathon, our team of intrepid birders spent the weekend searching Prince Edward County and Presqu'ile Provincial Park.
Our main objectives were to raise money for conservation, contribute our data to bird records, and have fun in the process.
We're happy to report that we surpassed all our goals. With weather mostly on our side, we ended the list in Ottawa with a total of 120 species of birds.
Besides starting the day with a Peregrine Falcon perched on the roof of our apartment, and significant warbler fallout on Saturday, our main highlights included the following: Short-billed Dowitcher, Black-billed Cuckoo, Scarlet Tanager, Indigo Bunting, Orchard Oriole, Pine Siskin and a flock of 70 Brant Geese.
We raised CAD $595 with the bulk of the funds going to Ottawa's Wild Bird Care Centre.
Nina and Tony want to thank the Always An Adventure team. We enjoyed your company and we can't wait to do this again.
We want to extend an extra special "thank you" to all those wonderful folks that donated to the birds.
Our beautiful planet needs more people like you.